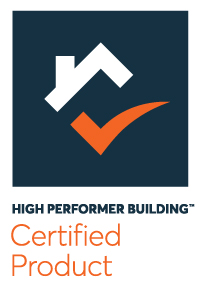 J-FRAME 11 is a general purpose Structural Laminated Veneer Lumber (LVL), gauged Framing timber, manufactured by Juken New Zealand Ltd (JNL) from Radiata Pine. A reliable straight and durable product, J-Frame 11 can be used in a wide range of applications including residential and commercial framing and truss systems. J-FRAME 11 is CodeMark certified, an engineered wood product, being manufactured to AS/NZS 4357 (Structural LVL), AS/NZS 1491 (Finger Jointed Structural Timber), supported by ISO 9001 (Quality Management System) and ISO 14001 (Environmental Management System). (Refer Product & Process Integrity comments).
Bond
J-FRAME 11 Structural LVL uses Phenol Formaldehyde Resin to produce an A Bond classification. This bond has a proven, internationally recognised durability record for exposure to moisture and stress. Australian Standard / New Zealand Standards AS/NZS 2754.1 "Adhesive for Timber and Timber Products" states for Type A bond:
"……. can be used in applications involving extreme long-term exposure to weather or wet or damp conditions and/or long-term structural performance requirements without glue line break-down or glue line creep."
Moisture Content
J-FRAME 11 is supplied to market with a targeted moisture content of 18%. Glue lines in LVL can affect moisture content measurements. Moisture equivalency tables for J-Frame 11 developed by Scion are available here
Preservative Treatment
J-Frame 11 has CodeMark product certification for use where Hazard Class H1.2 or less applies. 
Stress Grading
J-FRAME 11's design and manufacturing process, ensures consistency in strength, stiffness and stability. Two structural grades of J-Frame are produced.  The characteristic properties of J-Frame are above the minimum of MSG8 in respect of J-Frame 8 and above the minimum of MSG10 for J-Frame 11 as documented in table 2.3, NZS3603:1993 (Timber Structures Standard).

Finger Jointing
Standard lengths of J-FRAME 11 over 3 metres will have one finger joint per length. Finger jointing is audited by the EWPAA to confirm manufacture in compliance with AS/NZS1491 Finger Jointed Structural Timber. 
Product Identification
J-FRAME 11 is print branded to show product name and grade, applicable standards, Hazard Class application of uses, and certifying bodies.
J-FRAME 11 should be kept dry when being stored. Place on ground with packers and cover with water proof plastic to prevent moisture.
Minimise exposure to weather and rain.
Protect Frames and Trusses from weather as soon as possible.
Dry out before covering/lining after exposure to wetting.
Product and Process Integrity
The Engineered Wood Products Association of Australasia (EWPAA) http://www.ewp.asn.au, SGS Timber Labs and  Bureau Veritas, audit and/or test JNL J-Frame to verify JNL's quality systems and products.
JNL is certified to both ISO9001 Quality, and ISO14001 Environmental, Management System Standards, both of which demand in-house documented procedures, training programs and process control systems.
Rigorous product testing as stipulated in the applicable standards and certification scheme rules are performed on each J-FRAME 11 manufacturing batch by JNL's Quality Assurance Department. The internal testing is continually verified by the EWPAA independent testing of product, in its NATA accredited laboratory.
The JNL Wairarapa Mill has been manufacturing LVL for over 20 years and has attained Forestry Stewardship Council® (FSC® C009303) Chain of Custody (COC), testifying that the Pinus radiata used in J-FRAME 11 is from a sustainable, environmentally managed forest resource.